Are you a Capricorn in love? Are you in love with a Capricorn? What do the stars have in store for you?
Capricorn men and women may start out in life a little slow, but give them some time and their drive and ambition will change your mind about them.
Hard-working and dedicated to success, Capricorn will often shoot to the top in their career choice and become financially secure. Although they enjoy the finer things, they tend to be conservative in money matters and in other areas of their life. They will carefully consider an investment or conquest from every angle before pursuing it.
If Capricorn seems to be too reserved at first, rest assured they only get better with time. The lover who has patience and can ride out the early years will be richly rewarded by a relationship that is strong, committed and improves every day. The best is yet to come!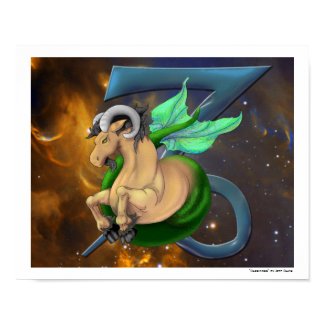 Capricorn Man
Practical, conservative and successful
The Capricorn man is extremely driven and will rise to the top in all areas of his life. He is likely to be materially wealthy and successful in whatever vocation he has chosen. His main focus will be on his career and his ambition and "go-getter" attitude will guarantee his success.
Although he is career-focused, he is also a hard worker in play and in love. His name and the word "lazy" will never be in the same sentence.
Capricorn will not jump into a relationship. There will likely be a courting period that feels a bit like a job interview. This might sound tedious and unromantic, but the woman who can stay the course will be richly rewarded. It takes him some time to find the right partner and fall in love, but when he does, he will put his heart and soul into making it work.
Like the Capricorn woman, this man will only grow better with age. He will learn from life's experiences and mistakes, applying his knowledge to new endeavors and relationships. He is continually looking to improve himself and his existence, which is certain to spill over to the lucky lady in his life!
Image: Capricorn Print by JDSavage, available at Zazzle in a range of products
Capricorn Woman
Ambitious, hard-working and loyal
The Capricorn woman is ambitious and hard-working. She is driven to achieve her goals in life and will align herself with people she feels can help her along her way to success.
The female Capricorn gets better in all areas of her life as time goes on, including in her relationships. It takes some time for her to figure out what works, but when she finally finds the right path, she will pursue it with a strong passion. She eventually becomes successful in anything she sets out to do.
What is Capricorn looking for in a love partner? She will fall for a man who is hard-working and can match her ambition. She will never waste her time on someone who is lazy and unmotivated. Physical looks are low on her list of desirable qualities.
Although she may be analytical and cautious, she will work hard on her relationship and she will be devoted and loyal to her partner. If she is comfortable with her body, she will be a very passionate and exciting lover. Give her time…with Capricorn, things truly get better with age and her later years will be her best!
Capricorn Compatibility
Which star signs make the best match for Capricorn?
Capricorns are well matched with Taurus, Cancer, Virgo, Scorpio, Capricorn and Pisces.
Capricorn and Taurus make the perfect coupling in work, friendship and love. They share a hard-working mentality and are driven to success. Money will not be an issue, although financially conservative Capricorn may need to reign in Taurus' tendency to spend money freely.
Capricorn and Cancer share the same traditional values and are family-oriented, but they can have a very passionate love life. They both tend to be hard workers and will focus on a relationship to make it the best it can be. Long-term love is likely between these two.
Capricorn and Virgo understand each other deeply and communicate well together. Their deep bond will keep them fighting for each other through good and bad. They will form a strong dedication to each other and are sure to have a thriving and enviable love life.
Capricorn and Scorpio share a strong chemistry and their sexual intimacy will be the glue that holds the relationship together. As long as Scorpio doesn't play games and keep secrets from Capricorn, this is likely to be a passionate, exciting relationship that can stand the test of time.
Capricorn and Capricorn will be two peas in a pod. They will join together to form a powerhouse relationship and should find success in love, family and careers. They will most likely be wealthy, but their conservative natures and charitable tendencies will keep them grounded.
Capricorn and Pisces will be very sexually attracted to each other. Although they are opposites, their differences are compatible and they will thrive off of each other, making them strong individually and as a couple.
Star signs that are incompatible with Capricorn
These Zodiac signs are NOT a good match for Capricorn
Caprocorns should avoid relationships with Aries, Libra, Leo, Gemini, Sagittarius and Aquarius.
Capricorn and Aries are very much opposites. Aries will seem too pushy for Capricorn and Capricorn will be too reserved for Aries. They might share a few fun dates, but a lasting relationship is unlikely.
Capricorn and Libra will have different focuses in life which will make this a difficult love match. Capricorn will tend to focus on career goals and success, while Libra will put all attention on Capricorn and their relationship. This will cause frustration and insecurity.
Capricorn and Leo will find it difficult to maintain a lasting relationship. They are very similar in some ways, but they do not complement each other. They both need respect and validation that the other won't be able to give, making it hard to form a deep bond.
Capricorn and Gemini will initially be physically attracted to each other and may enjoy a short-lived, passionate relationship. However, with time Gemini will become bored with Capricorn's conservative nature, while Capricorn will become tired of trying to reign in Gemini's wild ways.
Capricorn and Sagittarius do not make a good love match. While Capricorn is focusing on becoming a success, Sagittarius will be off searching for a new, exciting endeavor. The distance between them will be too much and it is likely bridges will burned before they can reconcile their differences.
Capricorn and Aquarius tend to make better friends than lovers. They will share fun and laughter, but a love relationship will be too challenging. Conservative Capricorn will feel threatened by free-spirited Aquarius. Hard feelings and jealousy will likely tear these two apart.
The perfect Capricorn date
How to woo a Capricorn
A ballgame followed by a dinner at the local diner most likely won't impress ambitious Capricorn.
This sign of the Zodiac loves the finer things in life and tends to have expensive tastes. If you want to impress, take Capricorn to an exclusive restaurant or wine-tasting. They will love browsing art museums or attending the opera.
If your Capricorn has a hint of an adventurous side, a sailing experience might be just the right mixture of refinement and excitement.
MORE ABOUT CAPRICORN IN LOVE FROM KELLI FOX
Cautious but loyal